Victorian Online Gold Maps is an easy to use mapping package to help gold prospectors discover gold bearing ground in Victoria, Australia. It can be used on a PC, tablet or mobile phone.
The Victorian Gold Maps can be viewed in either map view or satellite view using Google Maps. You can even get directions to the gold mine or other feature of your choice. Use your mobile phone, when out in the field, to identify the nearest gold mine, shallow workings or quartz reef, to increase your chances of finding that elusive nugget.
Information is provided on Victorian gold mines (colour coded to display reef gold or alluvial gold), shallow workings, quartz reefs, deep leads and Crown land and each set of data is listed alphabetically to enable you to easily find a site of interest. The information provided in the Gold Maps of Victoria is far more extensive than any paper maps and is easier to use than many other systems including Geovic.
There are 15 maps in the series. Eleven Goldfield District Maps cover 153 named Victorian goldfields. There is also a map that provides links to 146 historic geological maps. Three other maps are provided free of charge to subscribers and show details of Heritage Sites, Planned Burns and a map that shows were you can and cannot prospect is areas managed by Parks Victoria.
The maps are available on an annual subscription basis, see the Gold Maps page for details.
Click on this map to open the Ballarat Goldfield District and test out the mapping package.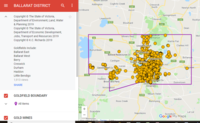 Comments received so far:
"These maps are awesome - sure beats navigating geovic! I'll be sure to buy more of them in the coming months" - Mark
"Thank you for sending me the Ballarat District Goldfields map. I like the simplicity of using this in Google maps. You have put a lot of detail in these which is handy for detecting." – Mike
"This is a fantastic map you have produced it has helped me locate some areas I would never have gone to. You must have put a huge amount of time and effort into compiling this well done." – Geoff
"Thanks for the maps they r brilliant" - Robert
"I have the Bendigo map and I use it all the time. I like that I can add my own Google Map pins for places I want to go to, and notes on places I've been." - Steven
"Hi just wanted to say that I found my first piece of gold thanks to you. Keep the great work up. Cheers" - Jack
"Thanks heaps. Have 4 of your maps now and I love them." - Mark
"Love your maps mate, I have 3 so far, still learning to navigate but bloody awesome at the same time." - Len
"I have found 2 bits of gold over the weekend thanks to your map :-) Just wondering if i could please purchase the Wedderburn map?" - Cait
Things to Consider
How much did you spend on your detector?
How much have you spent on coils?
How much was your pick?
How much was your pinpointer?
How much do you spend on petrol for a day's detecting?
How much for a paper map covering a small area?
How much for a coffee and a pie at the bakery in the goldfield?
How much for a map covering multiple goldfields that you can use on your PC, tablet or mobile phone and view in map view or satellite view and get directions to the site that shows:
Gold mines (colour coded to show reef gold or alluvial gold)
Shallow workings
Quartz reefs
Deep leads
Crown Land
Answer $30
Research finds gold